Go New Jersey! Family Leave Insurance
The New Jersey Senate, in a 21-15 vote, passed Family Leave Insurance in April of 2008. Governor Corzine signed the bill into law, making New Jersey the 3rd state in the nation to offer this essential support to families.
Read about how MomsRising members contributed to the effort below
The Power of Onesie in New Jersey!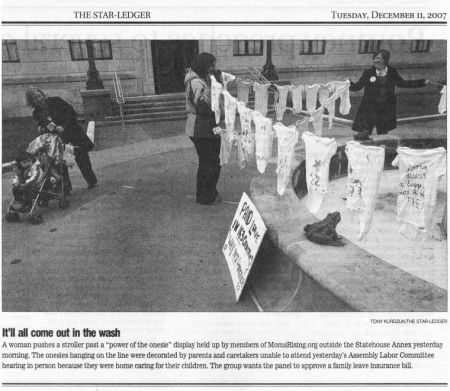 Action Count!
One representative's staffer said, "I can't believe how much we're hearing about this bill, it's incredible!"
Running total of letters to New Jersey Legislators:
April 7, 2008: 63,649
March 15, 2008: 56,103
March 12, 2008: 44,223
March 7, 2008: 28,143
March 3, 2008: 25,867
February 29, 2008: 20,885
February 27, 2008: 12,224
January 26, 2008: 10,174
Dec 20, 2007: 8,752
Dec 12, 2007: 7,667
Dec 10th, 2007: 6,790
Dec 4th, 2007: 5,310
Nov 17th, 2007: 4,390
Nov 9th, 2007: 2,802
Campaign Recap:
MomsRising Members in New Jersey are on fire with activity to pass Family Leave Insurance. In the last 6 months alone, they have participated in on the ground lobbying, testified for committees in the Assembly and Senate, decorated and displayed baby Onesies (see picture above), made hundreds of phone calls to their legislators, and sent tens of thousands of letters to their legislators. In addition, business owners at Momsrising signed a letter in support of family leave insurance, which will help small businesses provide this key benefit to their workers.
Facts to inspire you:
Paid family leave has been shown to reduce infant mortality by as much as 20% (and the U.S. ranks a low 37th of all countries in infant mortality), as well as to help keep families out of poverty. In fact, right now, without paid family leave, having a baby is a leading cause of "poverty spells" in this country (poverty spells are a time when income dips below what's needed for basic living expenses like food and rent). And a full quarter of families with children under six years old live in poverty here.
About the Family leave Insurance Bill: This program would create an employee-paid family leave insurance program that would provide NJ workers with paid time off to care for a sick family member or to bond with a newly born or adopted child. It does this by expanding New Jersey's current Temporary Disability Insurance Program, giving employees partial wage replacement during family leave. There would be no tax increases on NJ businesses.