Getting ready for Easter this weekend? Do it the nontoxic way! There are easy, affordable, nontoxic alternatives for everything from egg dyes to Easter sweets. And you'll be in good company: Last year, the White House started making the annual White House Easter Egg Roll greener by using environmentally friendly wooden eggs.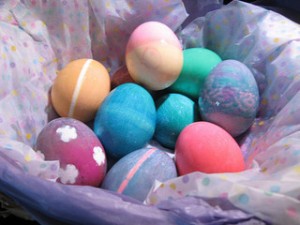 Photo Credit: Photo by Flickr User tiaragwin
Easter Egg Dye: Did you know that you can turn everything from red onions to frozen blueberries into natural dyes for Easter eggs? The Green Gifts Guide has a great assortment of natural dye recipes that you can make with white vinegar, water, and a wide variety of foods from your kitchen. For more food dye tutorials, check out this article from Yahoo Shine.
Easter baskets: Recycle baskets around the house, or check out the local thrift store for baskets, which you can wash, decorate, and transform into an easter basket. Simple Homemade recommends thinking outside the basket and using a beach pail, bonnet, or flower pot as a basket. If you're feeling crafty, try one of these DIY basket ideas from Crafting a Green World. 
Easter grass: Replace plastic easter grass with a more earth-friendly alternative. Try rafia, shredded recycled paper, recycled fabric or line the bottom of the basket with a soft gift, like a new piece of clothing.
Sweet Treats: When it comes to candy, the holidays are a time for over packaged, individually wrapped, themed sweets. Keep your edible Easter basket fillers eco-friendly by foregoing themed treats in favor of less packaging, organic options, and yummy DIY replacements.
Toys: Many plastic toys contain phthalates, a toxic chemical linked to several health issues. Avoid phthalates by choosing cloth or wooden toys (and don't forget to check out the tips below to help you pick the safest cloth and wooden toy options).
Safer cloth toys: Look for cloth toys made out of organic cotton, wool, hemp, or bamboo. Read the labels, and stay away fabrics that are water repellant, water proof, or that are labelled "California TB 117." The "California TB 117" label means that there are flame retardants in the item, which can be toxic, especially to children. For more information on flame retardants, and how to avoid them, visit the Green Science Policy Institute.
Better wooden toys: Look for unvarnished wooden toys. If your purchase varnished toys, choose ones with a low-VOC or water-based stain or sealant, or toys that are finished with tung oil and beeswax
Think outside the toy box: Lisa Frack from Environmental Working Group recommends skipping the non-toxic toy shopping hassle by switching out traditional toy gifts with fun activities. A meal at a favorite restaurant, a special day trip, or registration for a fun activity like ice skating or gymnastics all make great, non-toxic gifts. Books or art supplies can also make excellent basket fillers.