NYC Paid Sick Leave rally draws crowds, opposition and Gloria Steinem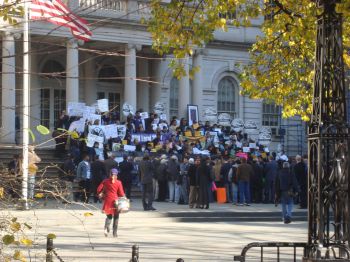 A crowded rally was held Tuesday on the steps of City Hall in support of a paid sick leave bill currently pending before the City Council. The pending legislation was introduced in August by Councilwoman, Gale Brewer.
The rally, scheduled to begin at 12 noon, drew such a crowd that by 12:15 security guards were turning people away at the gates in front of City Hall. One famous supporter of the bill, Gloria Steinem, addressed the crowd:
Our great five boroughs are way behind every modern democracy . . . in having no paid sick leave. Women are asking Mayor Bloomberg and Speaker Christine Quinn to bring us into this century at last.
Council Speaker Quinn, who controls what bills come to vote and when, has yet to take a position on the bill, although 38 councilmembers (out of 51) currently support the bill.
Opponents of the bill, including small businesses, held a press conference before Tuesday's rally. Business owners like Tom Scarangello, of Scaran Heating and Air Conditioning Company, protested that the bill as written would provide too great a burden in these economic times.
But Sherry Leiwant, Executive Director of A Better Balance, rejects the concern that compliance with the bill would be too great a hardship for most businesses.  A Better Balance - along with the NYC Paid Sick Leave Coalition and the Working Families Party - has been instrumental in the campaign for sick leave in New York City.  Leiwant testified in support of the bill at a hearing that followed Tuesday's rally. Leiwant points to the positive experience of San Francisco since enacting mandatory paid sick leave in 2006:
The experience of San Francisco demonstrates that all workers can be given paid time to take care of themselves or their families without a great deal of difficulty for employers. What seemed clear from the business owners who testified at the hearing was that everyone thought paid sick time was a good idea and they would support any law that did not apply to them.
Indeed, Donna Levitt, of San Francisco's Office of Labor Standards Enforcement also testified in support of the bill by videoconference at Tuesday's hearing. Other supporters of the bill framed paid sick leave as a moral and public health issue, reinforced by the fact that Tuesday's hearing comes on the heels of an October 2009 report – drafted by A Better Balance and the Community Service Society – concluding that nearly half of the city's workers have no paid sick days and that over half of the city's low income workers do not have any paid days off.
As Leiwant points out:
This is a worker's rights issue, a public health issue and a work-family issue. It is not a partisan issue. The Paid Sick Time Act is bi-partisan with a Republican co-sponsor, Council member Eric Ulrich from Queens, and, according to a recent survey by A Better Balance and the Community Service Society, a majority of both Republicans and Democrats favor a law requiring businesses to provide paid sick time for their workers.
Why should you care about paid sick leave?
For additional highlights from Tuesday's hearing, click here.
Cross posted from the New York Working Moms Examiner column