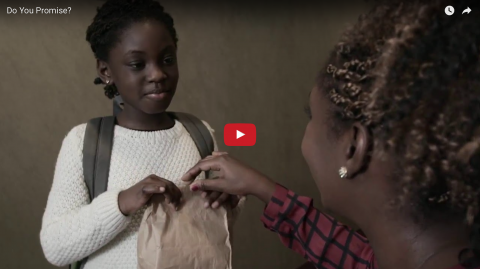 National Children's Immigration PSAs Debut This Week!
WASHINGTON – A national TV and radio public service announcement (PSA) campaign created by the bipartisan children's advocacy group First Focus will begin appearing in nine states and Washington, D.C., this month. The campaign encourages voters to support common-sense immigration policies.
The My American Story campaign shines a light on the nation's flawed and outdated immigration system and the impact it has on children, including U.S.-born citizens. 
"In America, we believe every child should have a fair shot at achieving his or her full potential," said Bruce Lesley, president of First Focus. "A fair shot means that all kids should have their parents. Keeping families together is a core American value, and our nation's flawed immigration system is doing the exact opposite – it's ripping families apart."
The TV commercials will air in several major markets in partnership with Bustos Media, LLC, and Hubbard Broadcasting, Inc, in Minnesota, New Mexico, and New York, while the radio spots will air in major markets in Arizona, Illinois, Minnesota, Missouri, Ohio, Oregon, Washington, and Washington, D.C. The project is a collaboration between the two broadcasters, First Focus, and national partners such as We Belong Together, United We Dream, MomsRising, and America's Voice Education Fund.
"The children featured in the PSAs know first-hand what it means to live with the fear that you'll come home from school to find your mother has been taken away by ICE, or grow up without your father there to play the games you love together because he was deported," said Sameera Hafiz, We Belong Together policy director. "They've fought bravely from a young age to keep their families together, and this is an opportunity for people across the country to hear their stories and get involved. While we wait for a decision from the Supreme Court on the Deferred Action Program for Parents of Americans and Lawful Permanent Residents (DAPA) program, these stories are a powerful reminder that what's at stake here is not politics, but the lives and futures of millions of our neighbors." 
Every day, more than 4 million U.S. citizen children live in fear of being separated from their parents due to detention or deportation by immigration authorities, putting their health and safety at risk and increasing their chances of entering foster care.
"We're so proud to join First Focus and our partners in this public education campaign to provide kids with an opportunity to share their stories," said Julieta Garibay, United We Dream campaigns director. "Underneath the angry political rhetoric, which tends to dominate the national dialogue, are stories like these – of kids, parents and individuals striving for a better life and fighting to live with dignity. I moved to the U.S. as a young girl and know what it's like to fear for your mother's safety. Executive action keeps families together and we must keep fighting until all immigrants are safe and secure."
My American Story began airing yesterday, just weeks before the Supreme Court decision on DAPA and expansion of the Deferred Action Program for Childhood Arrivals (DACA+). The enactment of DAPA and expansion of DACA has the potential to bring temporary safety and security to millions of U.S. citizen children and their families.
"These powerful and moving public service announcements will go a long way in helping to inform voters about the terrible and lasting impact our current outdated immigration policies are having on children and families," said Kristin Rowe-Finkbeiner, executive director of MomsRising.org. "Policies that tear apart families, separating children from the moms and dads who have risked everything to give them a better life have no place in our country."
Watch the My American Story PSAs:
Visit ThisIsMyAmericanStory.org for more information.
###
First Focus is a bipartisan advocacy organization dedicated to making children and families a priority in federal policy and budget decisions. First Focus houses the Center for the Children of Immigrants. For more information, visit www.firstfocus.org.
We Belong Together is a campaign co-anchored by the National Asian Pacific American Women's Forum and the National Domestic Workers Alliance to mobilize women in support of immigration policies that keep families together and empower women. To learn more about the campaign, please visit webelongtogether.org
United We Dream is the largest immigrant youth-led organization in the nation, a powerful nonpartisan network made up of 55 local groups in 26 states. UWD organizes and advocates for the dignity and fair treatment of immigrant youth and families, regardless of immigration status. We seek to address the inequities and obstacles faced by immigrant youth and believe that by empowering immigrant youth, we can advance the cause of the entire community—justice for all immigrants. You can find more about UWD online at unitedwedream.org.
MomsRising.org is an online and on-the-ground grassroots organization of more than a million people who are working to achieve economic security for all families in the United States. Established in 2006, MomsRising and its members are organizing and speaking out to improve public policy and to change the national dialogue on issues that are critically important to America's families. MomsRising also maintains a Spanish language website: MamásConPoder.org.