5 DIY Nontoxic Baby Care Products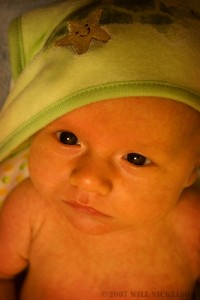 Photo credit: Photo by Flickr user Will Nickelson
Great news: Nontoxic baby care products don't have to be expensive! Organic, nontoxic, or even fragrance free items for our little ones can veer towards the pricey side. Luckily, there are easy, affordable DIY solutions for many commonly used baby care products.
Here are our top 5 DIY nontoxic baby care products (Not up for a DIY project? We have bonus tips at the end on how to buy the best nontoxic baby care products):
Baby powder: Avoid potentially toxic talc by skipping commercial baby powders and making your own. This recipe from the Smart Mama is super easy and only uses two ingredients. If you buy baby powder, make sure it's:
Diaper rash cream: Replace standard diaper rash cream with coconut oil. Coconut oil is a great moisturizer, it smells amazing, and it has anti-fungal and anti-microbial properties. If you don't have coconut oil, Simple Organic recommends using a 1:1 ratio of water and apple cider vinegar, which you wipe on the affected area and allow to air dry.
Hair care: Delicate baby hair requires special care; luckily, it doesn't require special expensive products. These recipes are affordable and use basic ingredients that you may already have in your home.
Baby oil: Most commercial baby oils contain mineral oil, which can be irritating to delicate skin. For a greener alternative, use natural one ingredient swaps to moisturize your baby's skin. Organic coconut oil and organic cold pressed olive oil are two great baby oil alternatives. If you're feeling crafty, you can try one of these baby oil recipes from Organic Authority.
Baby Wipes: Organic and unscented wipes can be quite pricey, especially for an item that you have to replace so frequently. Try an inexpensive DIY version instead. This recipe from Baby Center uses paper towels, castille soap, distilled water, and aloe vera juice. For a slightly simpler take on homemade baby wipes, you can try this version from Babies 411 that uses castille soap, olive oil and water. For a crafty and more sustainable version, try this tutorial on DIY cloth baby wipes from Simple Organic. 
Can't DIY? Don't worry! Though a lot of these recipes are one or two ingredient swaps, we can all get crunched for time, or just not be in the mood to DIY, and require some help from ready made products. Here are a few tips on how to buy the safest, least toxic baby care items.
As you select baby care items, use this list from the Environmental Working Group of the top chemicals to always avoid in kids' cosmetics:
2-Bromo-2-Nitropropane-1,3-DIOL (or Bronopol)
BHA
DMDM Hydantoin
Oxybenzone
Triclosan
Boric Acid and Sodium Borate
Dibutyl Pthalate
Toleune
The Environmental Working Group has a handy tip sheet that shows you which chemicals to look out for, and recommends products that are nontoxic or less toxic than their conventional counterparts. You can also look baby care items up on the Good Guide and EWG's Skin Deep Database.
This blog is a part of the Healthy Child, Healthy World blog network.