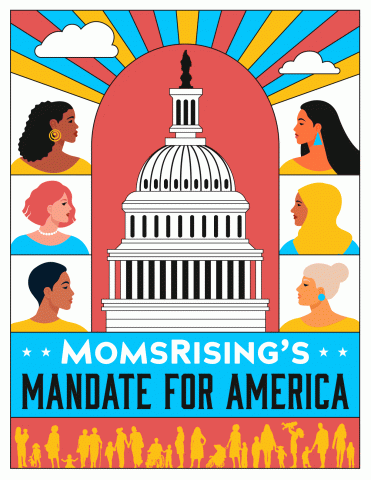 "There is no thing as a single-issue struggle because we do not live single-issue lives."

― Audre Lorde
Mission: MomsRising Education Fund is an organization of more than a million people working to increase family economic security, stop discrimination, and build a nation where everyone can thrive.
Moms are rising in unprecedented numbers: calling leaders; sharing their stories; and juggling the impossible through a pandemic turned endemic with a mandate for change. The 2023 MomsRising Mandate for America reflects that rallying cry!
Year after year, we listen to our members and we meet with researchers about the federal policies that are most needed to achieve the goals in our mission  – and our members and researchers agree on the next crucial steps for our nation!
2023 MomsRising Mandate for America
Workplace Justice and Paid Family/Medical Leave:  Advance permanent, comprehensive paid family and medical leave and earned sick time laws that give every working person access to paid leave. Raise the minimum wage, abolish the tipped minimum wage, achieve pay equity and transparency, and protect LGBTQIA+ people from discrimination through legislation and executive orders.   
Child Care:  Expand access to high-quality, affordable child care and pre-K in a publicly-funded, comprehensive early care system that ensures family-supporting wages for early educators and provides choices to families to meet their needs — regardless of race, zip code, ability, identity, the language they speak, or any other factor.
Health Care & Home- and Community-Based Services: Secure quality, affordable health care for everyone by reducing prescription drug prices and health care costs. Expand Medicaid coverage by closing the coverage gap and increasing access to home- and community-based services so unpaid family caregivers can rejoin the labor force. Provide fair compensation and support for care workers, who are disproportionately women of color and immigrants. 
Fair Taxation: Support families and end child poverty by extending improvements to the Child Tax Credit, including full refundability and access to the credit for ITIN filers. Enact tax policies that guarantee wealthy individuals and mega-corporations pay their fair share, which will generate revenue for care economy infrastructure.
Mental Health: Address Americans' top health concern by advancing federal investments in culturally relevant mental health resources for youth, parents and grandparents so families have the support they need to care and to thrive.
Maternal Justice: Improve health and well-being before, during and after pregnancy. Protect the full range of reproductive health care, including abortion care, particularly for communities of color that are marginalized and whose reproductive health care needs are too often ignored. Make critical investments in maternal health care that will save moms' lives, end racial & ethnic maternal health disparities, and advance birth equity.
Fair Treatment of Immigrant Families: Recognize the contributions of immigrants in our communities and care infrastructure, and create a pathway to citizenship to protect Dreamers, TPS and DED holders, essential workers, and farmworkers. Welcome immigrants with dignity and respect while respecting our nation's asylum laws.
Fight Gun Violence: Stop the loss of lives, livelihoods, wages and well-being caused by constant gun violence crises by enacting common-sense gun safety laws like universal background checks and bans on assault weapons and high-capacity magazines.
Youth and Family Justice: Replace failed criminal and legal interventions that harm families by advancing non-carceral public safety strategies, investing in public health approaches. End mass incarceration and mass criminalization. Invest in trauma-informed care, nurses, and therapists in schools and move away from school-based law enforcement. Advocate for safe, honest, and inclusive public education as the foundation of a just democracy. 
Democracy Protection: Expand voting rights by increasing access to the ballot while blocking policies that make it harder to vote, making Election Day a federal holiday, and deterring election interference to restore faith in our democracy, deepen mom voter engagement and mobilize mom voters.