SUPER BLOG-OFF: Let's Win This Thing, California!
Posted February 1st, 2013 by
Kristen Golden Testa
and
Michael Odeh
Editor's note from the Say Ahhh! blog: Happy Super Bowl Weekend!  As diehard Say Ahhh! fans know, that means its time for our annual Super Blog-Off.  This year, we've asked the blogging teams to face off on which state has done more to make the promise of the Affordable Care Act a reality for its residents.  Taking the field for the Ravens is Suzanne Schlattman with Maryland Health Care for All Coalition.  Kristen Golden Testa of the Children's Partnership and Michael Odeh with Children Now have teamed up to make the case for 49ers fans, which you can read below and at the Say Ahhh! blog.
You won't even need to put down the chicken wings to vote – just click on your favorite blog and like it on Facebook and/or tweet it out directly from the blog page so we can tally the votes.  (If you don't use Facebook or Twitter, your vote will still count if we go to the tiebreaker as we'll look at number of "reads").
Both states are forging ahead on putting the Affordable Care Act to work for children, families and individuals so let's show them our support.
Ok, listen up Team California! – it's halftime in the ACA health reform championship game, and we are tied with Team Maryland. Both teams clearly want this win and have been performing well, but there is still a lot of ball to play and a lot can happen in the final seconds of the game. Given California's outstanding performance this season, our team is well-positioned to be the champs!
Let's review: California started off the game with an early touchdown by becoming the first state in the nation to create a Health Insurance Exchange under the ACA. Our Exchange, now called Covered California, will make affordable coverage available to millions of Californians by being an active purchaser and applying the same insurance market rules inside and outside the Exchange. We immediately scored another touchdown by passing the ball to the countiesand increasing coverage for low-income adults early through a federal "Bridge to Reform" waiver. As a result, 642,000 individuals are already covered. Just remember how those parents cheered when we kicked a field goal by quickly guaranteeing children coverage in the individual market and making employer coverage available for dependents up to age 26. These early wins amount to more Californians covered than Maryland's entire uninsured population.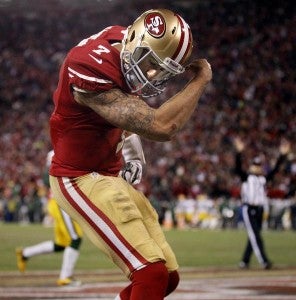 In fact, it is quite adorable that Maryland is even trying to compete with the massive impact of California. We are playing a different game and we had a much harder obstacle to get through to get there: California has more uninsured than Maryland has people, a much higher uninsured percentage, and diversity, scale and complexity that is unmatched. So, taking these challenges into account, we are clearly showing we can take the lead. But that doesn't mean we can't squander our lead and ultimately collapse, given the higher hurdles we have to overcome.
Our proactive and powerful offense (Legislature) has moved quickly on many ACA implementation plans such as to establish a strong enrollment system framework. However, the complexity of the play has resulted in a slow response on this play and Maryland intercepted and really ran with it. California needs to move the ball down the field by actually implementing the seamless and simplified enrollment system that we've been talking about all season. Without that open line to enrollment for consumers, we won't be able to gain the yards we need to make it into the end zone. We need to play smarter here – we can't waste time with applications that ask unnecessary and redundant questions nor request burdensome documentation instead of accepting self-attestation. And we have to make it easy to use for families. If phone calls are poorly transferred or answered by a busy signal or recording, we will be doomed to defeat. Our offense needs to remove the barriers for a clean pass and hold the line to maximize every opportunity to get Californians connected to coverage, then follow through! Once the pass is received, we can't leave them hanging: we need to run with it and get them immediate coverage, no delays!
I gotta say, our move to consolidate programs by transitioning children from our separate CHIP program (Healthy Families) into Medicaid was a dicey one. If we can pull it off and pay attention to detail, this play could be a benefit for kids and another touchdown for the team; but, if we wind up with dropped coverage and breaks in care for kids, we leave our defense penetrable. Most of all, we can't allow a blitz on children's access to quality care in Medicaid, so we need to invest in improving access and making sure that Medicaid, the biggest player on our whole team, is solid enough to take the pressure. If Medicaid access is strengthened, we will have some powerful future players like Colin Kaepernick and LaMichael James.
If we lose steam in the second half, Maryland could pull out the victory. They may be small, but they can be more nimble than California – remember Rudy?! It's pivotal that we set the tone for the rest of the game and we have some clear advantages: a quarterback (Governor Brown) willing to make important plays like a Medicaid expansion and delivering on affordable coverage options; many seasons' worth of injuries (budget deficits) finally behind us; a dedicated deep bench of players (legislative super majority) now huddling to lay out some key plays in the current special legislative session on health care; and stadiums full of fans (stakeholders) who are committed to taking the Medicaid expansion statewide and seeing Team California claim victory. Our quarterback may be inclined to run cautious and slower plays on Medicaid expansion, but the team knows it is a time to take advantage of federal matching funds and maximize the benefit. We need to play to win. As with the original '49ers, California has always inspired an innovative and determined spirit that can't be beat. Sorry Maryland, but California will put a huge dent in the nation's overall uninsured rate when millions of Californians gain coverage, so we have this locked up.
The Children's Partnership© works to ensure that all children—especially those at risk of being left behind—have the resources and the opportunities they need to grow up healthy and lead productive lives.
Children Now is the leading, nonpartisan, multi-issue research, policy development, and advocacy organization dedicated to promoting children's health and education in California and creating national media policies that support child development.